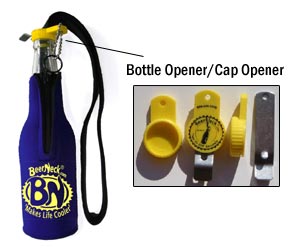 BeerNeck Components:
Bottle Opener/Resealable Cap
The Key to BeerNeck lies in the Resealable Cap. Since a BeerNeck is made to be worn (whether on the neck or the hip), protecting the contents is essential. It not only opens any bottle with ease, it closes the bottle, sealing in freshness and the precious contents.
No more Spills! Cap off your beer, throw it in the fridge and enjoy it later!
Neck Strap
Designed for maximum comfort, the neoprene beer neck strap keeps your beer conveniently near. IT Connects the Cooler Jacket to the comfy Neckstrap with a QUICK-RELEASE CONNECTOR, making removal QUICK & EASY! Imagine Never misplacing or mixing up your beer again!
Cooler Jacket
The thick neoprene insulating jacket is designed to fit the bottle like a glove, keeping it colder 3 times longer, keeping it nice & tasty from the first sip to the last sip. The heavy duty zipper is built to last and the quick-release connector allows you to quickly & easily connect to the neckstrap or the Hip-Clip.
Quick-Clip
When you want your Beer to disappear, but still keep it near...you go to the Quick-Clip. It will keep your beer safe, secure, and conveniently at your side...or wherever you want to attach it. Great for hooking on backpacks, jackets, etc. Perfect for hanging keys, dog leash and many other items.
Discover New Possibilities with BeerNeck…
Take a sip and drop your beer…without spilling a drop!
A Third Hand when you need it most.
Discover the 'No Drip Lime Flip'…perfect for Corona drinkers!
Make your beer disappear, but still keep it near…by going to the Quick-Clip!
What will you do with your hands now that they're free?
Benefits
BeerNeck® frees you to enjoy your beer bottled beverage in almost any setting or activity! Remember, BeerNeck is all about convenience and sets you Free from: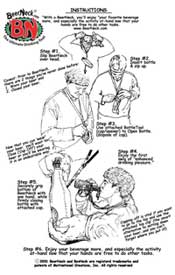 • Holding a beer bottle
• Mixing up beer bottles
• Spilling beer
• Searching for a beer bottle opener
• Anyone tampering with your beer
• Holding a cold or "sweaty" bottle
• Beer bottle breakage
• Warm beer